Thai amulets
Created & Written by Lek Watruak
Email From a Net Reader: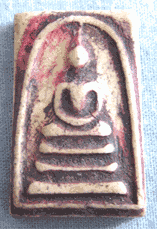 Dear Mr Lek Watruak, I have looked at your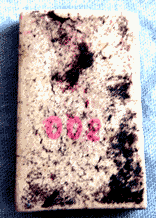 web site recently and I must say you have done a good job. I have got a query about an amulet and just hope you could help. Recently I've got an amulet from a friend of mine and all I know is it is called Somdej but I don't know its origin. I've attached 3 pictures for you to look at. The size is 3.6cm x 2.4cm and "002" is printed at the back. Looking forward to hear from you. David Tan/
The Author's Note:
The above piece is an imitation Somdej, Phim Yai, amulet. It's likely an unblessed item sold in bulk-sale market. General features of the amulet such as dome line, the Buddha image, all 3 stage bases and black lacquer on the surface do not meet Somdej Wat Rakang standard.
---
See Real Somdej >
Thai amulets Home | MainPage
Smart Collecting on the Have-not Code Chinnaraj Indochine 2485
Copyright © 2001-2009 Lek Watruak. All Rights Reserved.